Durable, Reusable Face Shields - Our COVID-19 Response
Actuated Medical Face Shields
When the Actuated Medical team heard about the COVID-19 PPE shortage, we repurposed our facility, designed a reusable face shield and brought up an FDA compliant face shield manufacturing line in less than 7 days.  Over the next 8 months, we shipped over 85,000 face shields to first responders, nursing homes, food processors, schools and individuals.
Types of Available Face Shields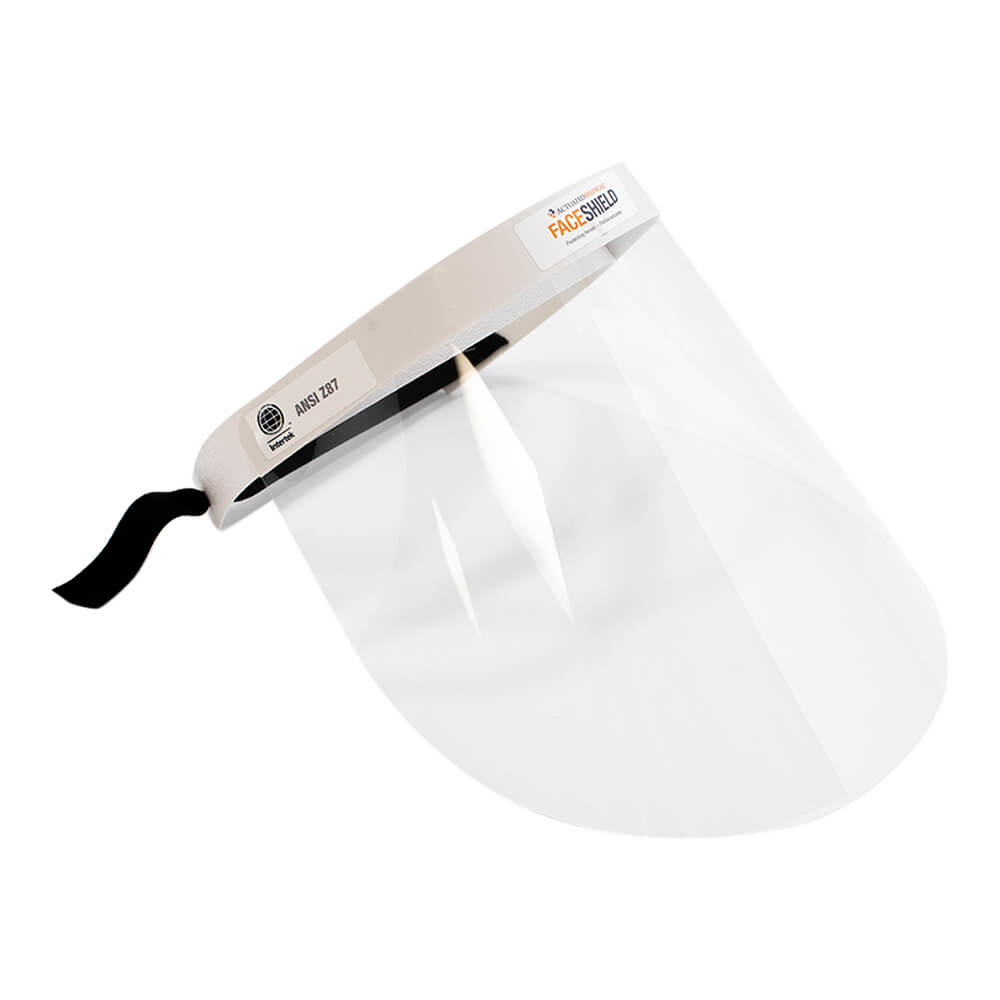 Reinforced Face Shield, 2 sizes
The Standard face shield fits most adults and the child-size face shields fit young elementary students (see sizing chart below).
Hard Hat Face Shield Attachment
Specialized face shield attachment that connects to most hard hats via tabs that insert into the hat's side mounts further secured with an elastic strap. It includes rivets to allow the shield to flip up when needed. (Hard hat not included.)
Football Helmet Face Shield Attachments
Specialized face shield attachments for football helmets. A variety of slots enable attachment to most football helmet types and sizes. (Football helmet not included.)
Testimonials From Experts
These face shields are some of the best that I have ever used! They have very clear optics and do not fog up. I can even fit my dental loops under them, which is critical for my work. They are easy to disinfect, which is particularly helpful right now, and are also longer and wider than normal shields, providing greater coverage. I got two to try them out initially but being so satisfied, I decided to order an additional ten shields.
Being in the healthcare field for over 15 years I have had the opportunity to utilize many different variations of face shields. Actuated Medical recently gave me one to use during the Covid-19 pandemic. Right out of the box, you can see the quality and workmanship that goes into their shields. This shield is by far the most durable I have ever seen. It reduces the amount of fogging so I can see clearly to perform patient care.
This face shield is more comfortable than wearing a mask. I forget I'm wearing it…which prevents me from touching my face. After wearing it, I remove it, wipe it with disinfectant and it is ready for the next day.
Reinforced Face Shield Instructions
Football Helmet Datasheet
Football Helmet Instructions
These face shields have not been FDA cleared or approved. The face shields have been authorized by FDA under an EUA for use by healthcare providers as personal protective equipment, and are only authorized for the duration of the declaration that circumstances justifying the authorization of emergency use under Section 564(b)(1) of the Act, 21 USC 360bbb-3(b)(1) unless the authorization is terminated or revoked sooner.
Actuated Medical, Inc. does not make any claims of safety or effectiveness of this product for any intended use.